'HERE WE, HERE WE, HERE WE ******* GO!'
GLASGOW SUPERSTAR LEWIS CAPALDI CLOSES OUT EPIC SOLD OUT WEEKEND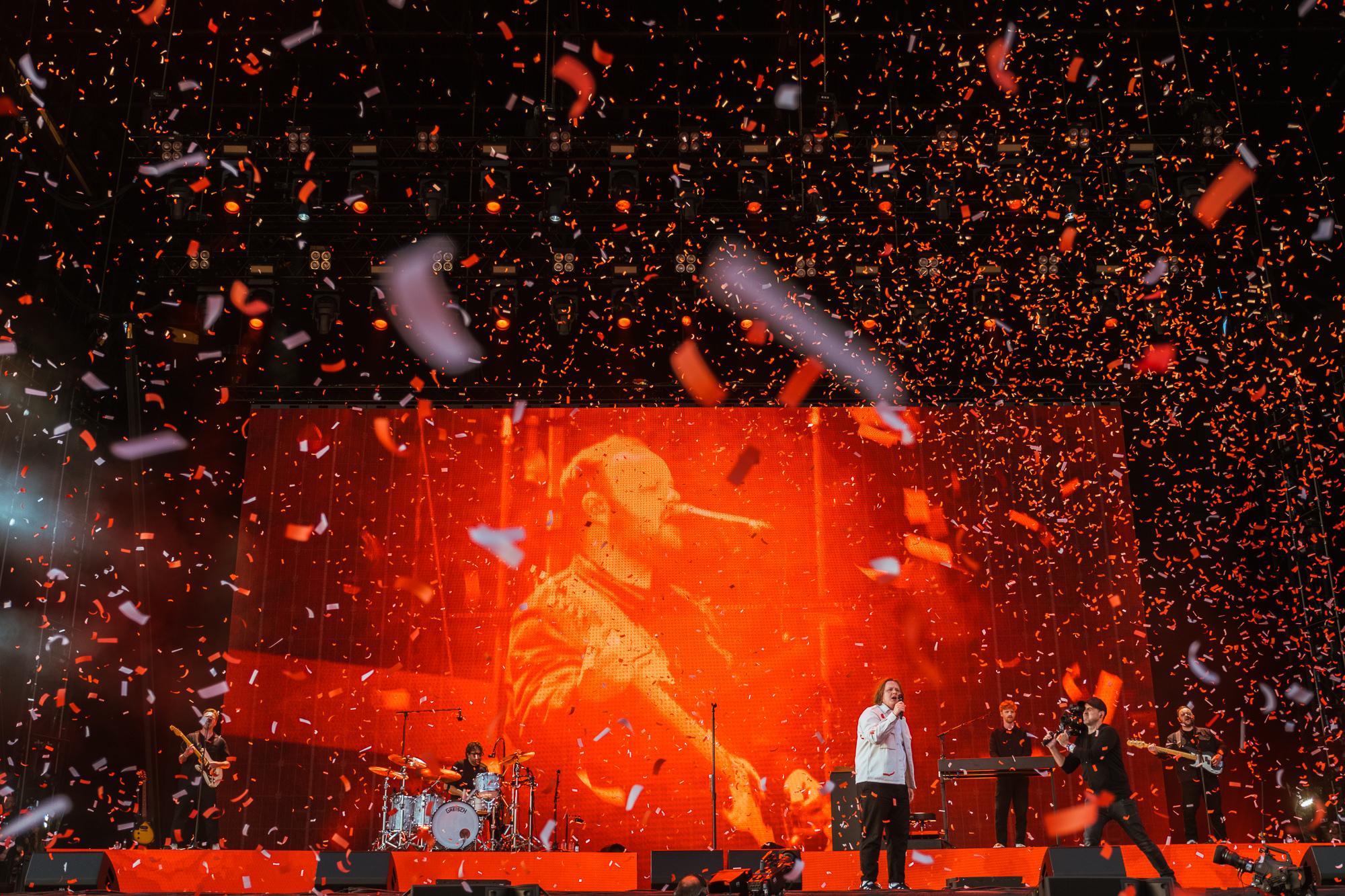 AFTER A SCORCHING WEEKEND, ORGANISERS ANNOUNCE TRNSMT 2023 DATES
50,000 FANS, OVER 70 ACTS AND COUNTLESS MEMORIES MADE – TRNSMT 2022 WAS BACK BIGGER THAN EVER
HIGHLIGHTS INCLUDED CROWD SINGALONGS TO SCOTTISH LEGENDS LEWIS CAPALDI AND PAOLO NUTINI, AMERICAN HEROES THE STROKES, BRIT AWARD WINNERS WOLF ALICE, AND THE SHOWSTOPPING FOALS' EPIC SET
As sun shone on day three of cinch presents TRNSMT for the final time this weekend – fans from across the country descended on Glasgow Green to catch the likes of Lewis Capaldi and his glorious hometown set on the Main Stage, Wolf Alice and their coy, indie rock swagger, to Norwegian pop sensation Sigrid and her awe-inspiring set, fine-tuned for stunning festival moments.
Gang of Youths – "This is my absolute favourite ******* city to play bar none"
Wolf Alice – "GLASGOWWWW, oh we are very happy to be back, this is one of our favourite places in the world!"
Lewis Capaldi – "This is absolutely incredible, thanks so much for coming to see me!"
50,000 fans each day were part of the iconic cinch presents TRNSMT Festival, which saw over 70 acts performing across 3 stages. Fans wasted no time, catching breakthrough acts on the King Tut's and River Stage, one day destined to headline, and enjoyed some of the biggest acts in music today over at the Main Stage, from Paolo Nutini, The Strokes and Lewis Capaldi.
The unmissable event of the Summer, cinch presents TRNSMT Festival saw festival revellers reunite once again as the Green offered an eclectic mix of epic tunes, delicious street food courtesy of Big Feed on Tour, non-stop house beats over at The Boogie Bar, stunning views of the Main Stage from cinch's faff-free viewing platforms and an opportunity to soar to new heights on the popular Big Wheel ride.
As the festival weekend began to wind down, it was finally time for Glasgow's own Lewis Capaldi to make his cinch presents TRNSMT Festival return. Walking out to Faithless' 'Insomnia' the beat drove right into the heart of the crowd. The perfect choice to close Scotland's biggest festival as the sun set across Glasgow Green with Scottish Saltires flying high he said, "Alright Glasgow let's hear it!". Swaggering across the stage before launching into an encore of 'Before You Go' and 'Somebody You Love', and, holding back tears as he sang, Capaldi looked across the Green before sitting on the centre of the stage, taking it all in, awestruck.
It was a day for national and international talent alike as Wolf Alice stormed the Main Stage, opening with the moody anthem 'Smile', offering a smorgasbord of glittery indie pop and hard rock anthems. Sydney, Australia's DMA'S made a welcome return toTRNSMT, "It's good to be back" said frontman Tommy O'Dell over chants of 'No Scotland, No Party!",  Mimi Webb kept the crowd on their toes, saying "I wanna try something, let me hear this side!" gesturing to the left of the audience, "right side, where you at?!" she screamed. Nina Nesbitt completed the stellar Main Stage bill for the festival's final day, was clearly ecstatic she said "Scot girl summer is here, how we doing everyone?" before leading the crowd in an iconic sing along of Britney Spears 'Toxic'. Sigrid said, "On our way here we passed a venue called Saint Luke's, I wrote this song about my experience there" – leading into the stellar anthem 'Sucker Punch'.
Over on the King Tut's Stage, "We are The Crawlers, let's beat the hangover with this!" adorned all in black, the goth rock group stunned on track 'Feminist Radical' as their lead singer blew kisses to the crowd. Mae Muller amazed the lucky crowd with her feisty pop display, exclaiming fondly, "Oh Glasgow, you're naughty! I knew I was gonna like you!" before performing a sizzlin' hot mash up of 'Gimme Gimme Gimme' and 'Hung Up'. Everyone You Know followed along with Alfie Templeman who proudly repped the iconic stage, wearing a King Tut's t-shirt. Australian alt-rockers Gang of Youths took to the stage, "you alright pals? This is our favourite city to play bar f****** none!" –  before leading into crowd pleasing banger 'the angel of 8th ave.'
The River Stage is renowned for featuring the best up and coming artists, tipping the next big stars who are one day destined to appear on the Main Stage and this year was no exception. With performances from the likes of Luz, Dylan Fraser, Alex Amor andBonnie Kemplay. Connor Fyfe made his TRNSMT debut, and at just 15 years old he is the youngest act to ever grace the festival bill. Rianne Downey, the social media phenomenon who struck gold this past year, becoming an overnight sensation with her classic rock covers, proved herself as a rock star in her own right, walking out in white platform Doc Martens and a Kappa trackie, "these are new songs, you're all VIP today!" she screamed. Closing out the stage were The Reytons, the indie rock band hailing from Doncaster are on a collision course to greatness – brash, unapologetic, it had to be seen to be believed.
Geoff Ellis, festival director of cinch presents TRNSMT said: "What an incredible weekend we've had. We had the sun shining on Glasgow Green, a fantastic line up of over 70 artists across four stages and 50,000 incredible fans every day – we really couldn't have asked for more.
"Scotland's very own Lewis Capaldi brought the sold-out festival to a close, which was a moment for the history books. The emotion-fuelled set saw fans singing every word back to him and Lewis threw in a few surprises for the crowd, with a rendition of Abba's Dancing Queen and a chorus of happy birthday sang for his Tour Manager.
"It was great to welcome back international artists to Glasgow Green, but also to see excited music fans enjoying our best homegrown talent, with Paolo Nutini closing day one and The Snuts getting the crowd going on Saturday.
"Festivals are all about discovering the next big thing and this year, we put some of the brightest up and coming talent on the line-up. Brooke Combe, Dylan John Thomas, Rianne Downey, and BEMZ are just a few of the rising stars that stole the show and we can't wait to see them on the main stage in the future.
"TRNSMT marks the halfway point in Scotland's record-breaking summer of music and I'd like to thank the artists, the fans and everyone who works extremely hard behind the scenes to make this festival happen."
It was another incredible TRNSMT at the Green, with festival fans coming together once again, discovering new incredible acts over at the River Stage and King Tut's Stage, dancing the night away at The Boogie Bar, and singing along to old favourites at The Main Stage. From homegrown heroes like Paolo Nutini, SAINT PHNX, Nina Nesbitt, Lewis Capaldi, Dylan John Thomas and Connor Fyfe to the UK's most celebrated acts like Sam Fender, Foals, Wolf Alice and Beabadoobee – TRNSMT was the place to be this summer. The countdown to 2023 is on … see you there!
7 – 9 JULY 2023
TICKET PRICES FROZEN AT 2022 PRICES FOR A LIMITED TIME ONLY
The exclusive pre-sale for 2023 weekend tickets is available to 2022 ticket buyers, TRNSMT mailing list subscribers, and 3Mobile customers from 9am Wednesday 13th July, and general on sale is available from 9am Friday 15th July via www.trnsmtfest.com.