Spotlight On...
Edinburgh's
Christmas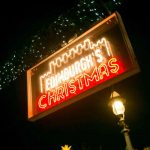 Edinburgh's world-famous Christmas celebrations returns to the city for 2018. From 16 November until 5 January one of the UK's most popular festive celebrations comes to life in Edinburgh city centre, with the biggest, brightest and best programme of events and entertainment to date.
A Christmas staple and voted best Christmas Market in the UK last year, East Princes Street Gardens Market hosts a variety of food and drink stalls to warm up bellies and hearts alike. This Christmas Market will offer visitors a wide range of local and homemade gifts as well as mouth-watering delicacies, all topped with a generous helping of Christmas spirit.
The Christmas Market will also feature a variety of rides and attactions for all the family to enjoy, including the Forth 1 Big Wheel and the ever-popular Star Flyer. Standing at nearly 60 metres tall, the Star Flyer will offer a different view of the city full of Christmas cheer.
The St Andrew Square Ice Rink is the magical frozen heart of Edinburgh's Christmas. The festive season in Edinburgh just isn't complete without a spin around the UK's only elliptical outdoor ice rink, followed by a warming cup of hot chocolate or hot cider in the Rekorderlig Cider Lodge.