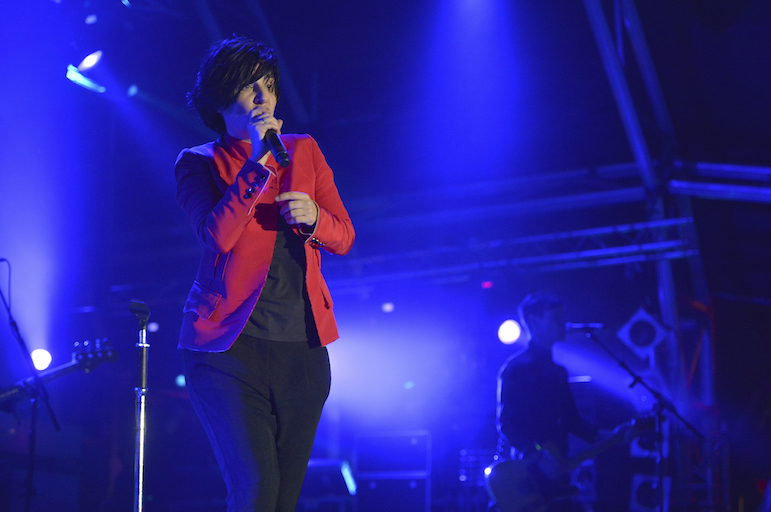 ©Brian Anderson
 DUE TO PHENOMENAL DEMAND
TEXAS HAVE ADDED A RECORD BREAKING THIRD NIGHT AT
SUMMER NIGHTS AT THE BANDSTAND
Due to phenomenal demand, Regular Music are delighted today to announce that TEXAS have now added a record breaking 3rd night. With both shows selling out within hours of being announced, so Texas will take to the stage once again on 31st July as part of this year's Summer Nights at the Bandstand. Tickets go on sale Friday10rd March at 9am from www.ticketmaster.co.uk.
Mark Mackie, director of Regular Music, said earlier today, "We are delighted to announce that due to phenomenal demand we have now added a third and final Texas show on 31st July. Texas are one of the most iconic bands to come out of Scotland and where better to see them than "up close" in this historic amphitheatre on the banks of the River Kelvin."
Texas were founded by Johnny McElhone (formerly of the bands Altered Imagesand Hipsway) in 1986 and feature Sharleen Spiteri on lead vocals. Texas made their performing debut in March 1988 at the Univercity of Dundee, and their second show was with Fleetwood Mac in Edinburgh.
The band released their debut album Southside in 1989, along with the debut single "I Don't Want a Lover" which was an international hit, reaching the top ten in the UK and other high charting positions in Europe.Southside debuted at number three in the UK and number 88 on the US Billboard 200 album charts The band had further success through 1997 when White on Blonde entered the UK Albums Chart at number one and became their biggest seller. To date it has been certified six-times platinum in the UK, for shipments in excess of 1.8 million copies. They have also had huge success overseas, particularly in mainland Europe.
As of 2017, Texas's projected sales had accumulated to 38 million records to date, as well as scoring thirteen UK top ten singles, three UK number one albums and seven UK top ten albums. The critically acclaimed new album , 'Jump On Board' will be released on April 21st 2017
Sharleen Spiteri said,"unbelievable that we're doing a third night, this truly does feel like coming home."
The public response to this year's Summer Nights at the Bandstand has been phenomenal, with Brian Wilson (3 Aug), Sir Tom Jones (5 Aug), Pixies (7 and 8 Aug), and Hipsway (12 Aug) all selling out within hours of going on sale. Be quick when tickets go on sale on Friday at 9am or you will be disappointed.
Summer Nights at the Bandstand 2017
The Full Line-Up
TEXAS Tuesday 1 August SOLD OUT
TEXAS Wednesday 2 August SOLD OUT
BRIAN WILSON performs Pet Sounds Thursday 3 August SOLD OUT
KT TUNSTALL Friday 4 August
TOM JONES Saturday 5 August SOLD OUT
LADY SMITH BLACK MAMBAZO Sunday 6 August
PIXIES Monday 7 August SOLD OUT
PIXIES Tuesday 8 August SOLD OUT
SEASICK STEVE Wednesday 9 August
NICK LOWE, PAUL CARRACK and ANDY FAIRWEATHER LOW Thursday 10 August
THE SHIRES Friday 11 August
HIPSWAY Saturday 12 August SOLD OUT
ARAB STRAP Sunday 13 August
Tickets for Texas go on sale Friday 10 March 9am. Maximum 6 tickets per person. All tickets will be printed with purchaser name. Matching photo ID will be required on entry to the venue. Tickets available from www.ticketmaster.co.uk or 0844 844 0444 and from all usual outlets. All other concerts on sale now.